Introduction
The ACRC has reinforced communication and cooperation with civic groups and enhanced the government-level support for spread and settlement of ethical business management culture among economic associations and businesses.
Public-Private partnership
Establishment and operation of the Korean Network on Anti-Corruption and Transparency and expansion of local anti-corruption networks
The Korean Network on Anti-Corruption and Transparency (KNACT), a public-private anti-corruption consultative group, was launched on September 3, 2014, after groups conducting similar activities had been suspended since 2008. The KNACT made great efforts to spread a culture of integrity in 2016 through building local public-private anti-corruption networks, debating the Improper Solicitation and Graft Act, meeting with civic groups, and publishing newsletters. Though the KNACT began with 38 organizations and groups, it expanded to include 45 organizations and groups in 2016.
[ Organizations Participating in KNACT ]
Sectors (45)

Organizations

Civil Societies (9)

- Transparency International Korea (TI), National YWCA of Korea, Transparent Society Movement Center under Hung Sa Da

- Korea Manifesto Center, Korea National Council of Women, YWCA of Korea

- National Council of Green Consumer Network in Korea, KNACT Chuncheon, Busan Network for Clean Society (105 organizations including Busan Office of TI Korea

Public

Organizations (26)

- ACRC, Korea Land & Housing Corporation, Korea Rail Network Authority, Korea Airports Corporation

- K-Water, Korea Expressway Corporation, Korea Workers' Compensation and Welfare Service, Korea Environment Corporation

- Korea Sports Promotion Foundation (KSPO), Korea Teachers Pension

- Korea Rural Community Corporation, Korea District Heating Corporation, Korea Transportation Safety Authority, KORAIL

- Korea Hydro & Nuclear Power Co. Ltd, National Agricultural Cooperative Federation, KEPCO Engineering & Construction Company, Kangwon Land, Korea East-West Power Co.

- Human Resource Development Service of Korea, Korea Occupational Safety & Health Agency, Korea Gas Safety Corporation

- KPECO KDN, KOREA South-East Power Co., Korea Land and Geospatial Informatix Corporation, Incheon International Airport Corporation

Local Organizations (4)

- Busan Network on Anti - Corruption and Transparency (45 organizations, including Busan Metropolitan City)

- The Council for the Daegu Pact on Anti-Corruption and Transparency (30 organizations including Daegu Metropolitan City)

- The Council for the Gyeongsangnam-do Pact on Anti-Corruption and Transparency (25 organizations including Gyeongsangnam-do Province)

- Gunpo Clean Society Network(20 organizations including Gunpo city)

Professional

Associations (6)

- Korea Chamber of Commerce and Industries, Korea Federation of SMEs, Korean Institute of Certified Public Accountants

- Korea National Council on Social Welfare, Korea Association of the Welfare Institutes for the Disabled

- IIA Korea
Establishment and operation of the Public Institution Integrity Ombudsman Council
The ACRC has made efforts to vitalize its integrity ombudsman system, which is operated by public organizations at all levels and welcomes private participation, in order to enhance responsibility and transparency in public administration. With this objective, in December 2015, the ACRC launched a practical communication platform known as the Public Institution Integrity Ombudsman Council, through which integrity ombudsman working in the central and local governments, as well as in public service-related organizations, can directly participate, seek solutions, and share best practices.

The Public Institution Integrity Ombudsman Council provides workshops and job training on the development of integrity ombudsman and best practices, and operates an online community where users can find resolutions at any time.

As of 2016, 26 public institutions participates the Council.
Support for private projects
The ACRC (formerly the KICAC) has supported private projects since 2007 with the goal of helping civic and social groups autonomously spread a culture of integrity and promote their own projects for improving people's rights. In 2016, 13 projects were selected out of 32 proposals, and KRW 2.09 million was provided in support.

Efforts made to spread a culture of integrity include building local public-private anti-corruption networks, fostering integrity lecturers, providing youth education, supporting youth integrity activities, seeking ethical management education and the Improper Solicitation and Graft Act education for private companies, and improving autonomous ethical management and transparency in local child centers. To provide better protection, an analysis of the actual use of the government welfare card for socially vulnerable citizens was conducted, and areas needing improvement were identified.
Support for ethical management
The ethical management of businesses―including transparency in accounting, anti-corruption integrity, and fairness―is closely connected to the ACRC's anti-corruption policies. The ACRC has therefore supported a number of projects in order to instil a culture of ethical management in businesses.
Production and distribution of the monthly webzine Business Ethics Brief
Business Ethics Brief is a webzine begun in April 2005 to support Korean companies with ethical management. The monthly webzine, available via email or brochure, provides businesses and academia with up-to-date information and trends in ethical management from both home and abroad. As of 2016, it is distributed 6,070 personal customers and 1,500 places including monthly magazines, companies, business associations, universities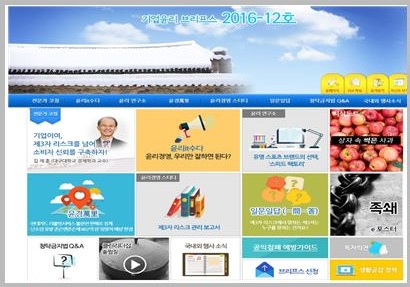 Business Ethics Brief monthly webzine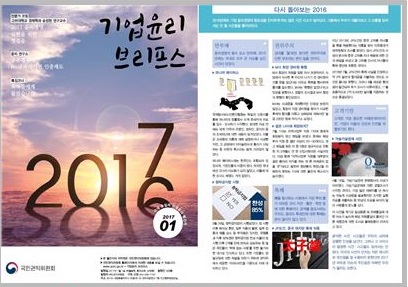 Business Ethics Brief brochure
Operation of education course for ethical management
The ACRC has provided education courses since 2009 in order to build the capabilities of compliance officers and raise an awareness of ethical management among corporate executives.

Such educational programs―which include expert lectures regarding the latest issues, the sharing of best practices, and debates on resolutions of ethical conflicts―aim to improve the capabilities of those in charge of ethical management.

Since 2012, the ACRC has visited companies in order to provide on-site education. Launching with 2 programs for 118 people in 2012, the number increased significantly to 16 programs for 2,350 people in 2016. The ACRC has expanded educational opportunities for small- and medium-sized companies, where the ethical management environment may be inferior, and has offered targeted educational courses for corruption-prone industries, such as the defence and pharmaceutical industries. In addition to these measures, an integrity policy program has been in operation since 2013 to actively share the public sector's integrity policy experiences with the private sector.