ACRC Actively Communicates with AMCHAM Korea to Enhance National Integrity Level
ACRC Actively Communicates with AMCHAM Korea to Enhance National Integrity Level
- On January 14(Fri), ACRC explained Conflict of Interest Prevention Act to AMCHAM executives and foreign businesses in Korea -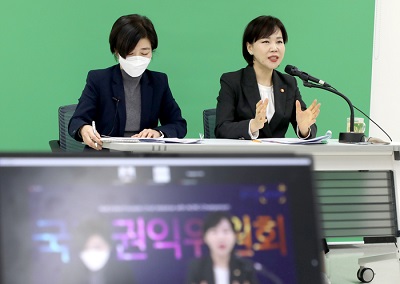 ACRC Chairperson explaining the Korean gov't anti-corruption policy etc.
On January 14, the Anti-Corruption and Civil Rights Commission (ACRC, Chairperson Jeon Hyun-Heui) explained the Korean government's anti-corruption policy achievements and the ACRC's efforts to strengthen legal and institutional foundation for effective prevention of corruption at a webinar jointly held with the American Chamber of Commerce in Korea (AMCHAM).

At the webinar attended by AMCHAM board of governors and executives, and American businesses operating in Korea, Chairperson Jeon introduced the government's anti-corruption policy achievements in enhancing the country's national integrity level. She then delivered a lecture on the Act on the Prevention of Conflict of Interest Related to Duties of Public Servants (hereinafter Conflict of Interest Prevention Act) which was promulgated on December 31 last year, explaining the law's purpose and impact on international companies operating in Korea.
The Conflict of Interest Prevention Act was designed to fundamentally prevent public officials from pursuing personal interests in the course of carrying out their official duties. The law applies to public officials but has some provisions applicable to individuals or corporations that are related to duties of public organizations.

If a National Assembly member or a public agency official receives civil complaints from a foreign company and he/she is personally related to the company's representative, executive, or manager, the public official must report the fact to the head of the organization he/she belongs to (Article 5 of the Act). If the public official carries out the duties concerned without reporting the fact and this turns out to be illegal, the public official and his/her personally related person or company will face restitution of the financial gains earned.

In addition, the Act prohibits a third party from getting financial gains by using confidential or undisclosed information received from a public official (Article 14 of the Act). Violation of the provision may lead to imprisonment for up to five years or a fine of up to KRW 50 million and confiscation or collection of the financial profits gained. The Act also prohibits a public official from representing a foreign organization, legal person, or group without the approval of the head of his organization (Article 10 of the Act).