ACRC held meetings for auditors of public institutions
ACRC held meetings for auditors of public institutions
- Key anti-corruption policies and tasks for 2022 were delivered to public institutions -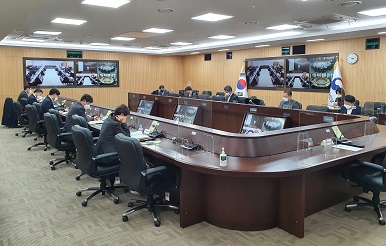 ACRC holding meetings for auditors of public institutions
The Anti-Corruption and Civil Rights Commission (ACRC) held "The meetings to deliver anti-corruption and integrity policies and tasks" for auditors of public institutions to continuously increase the Corruption Perception Index (CPI) and to complete the anti-corruption and fairness reform based on environmental changes such as COVID-19 and the Fourth Industrial Revolution.
To comply with COVID-19 quarantine guidelines, the meetings were held four times by institution type and attended by auditors of the central administrative agencies (January 20), metropolitan and provincial governments (January 21) local district governments (January 25), and public service-related institutions (January 26) in the form of a videoconference.
The ACRC has carried out government-wide anti-corruption policies, including establishment of strict conduct standards and public service ethics for fair performance of public duties, responses to corruption issues, and continuous integrity education.
Accordingly, various tasks and agenda were presented and discussed at the meetings to create tangible results that the people can feel directly and to accomplish the goal of making the national CPI rank in the top 30by following four strategies: ① Advancement of anti-corruption and integrity systems; ② Continuous inspection and improvement of corruption-prone areas; ③ Settlement of anti-corruption & integrity awareness and cooperation; and ④ Reinforcement of reporter protection in an active and preemptive manner.
First of all, as the Act on the Prevention of Conflict of Interest Related to Duties of Public Servants will take effect from May 19, the ACRC will lay the institutional foundation for public institutions to operate the system as planned and use a new comprehensive assessment system that combines the Integrity Assessment and Anti-corruption Initiative Assessment that have been used since 2002.
Second, it will significantly strengthen the and fair response system to corruption issues that citizens are highly interested in. It will include 'workplace harassment' into the concept of power abuse and added the specific behavioral standards such as measures to protect victims of power abuse to the Code of Conduct for Public Officials, while finalizing the reform of company regulations of public institutions that have been pushed forward since 2020.
Third, to raise the anti-corruption and integrity awareness, the ACRC will make face-to-face integrity education mandatory for elected officials and high-ranking officials such as heads of public institutions. Also, for the substantial improvement of integrity education, the Commission will make public institutions disclose their current status regarding the completion of integrity training courses on their website.
Last, to create an environment where people can freely make a report without fear, it will protect reporters in a preemptive manner, such as recognizing the position of the reporter and providing provisional protective measures if the necessary conditions for report are met even before the ACRC's final decision on protective measures.
ACRC Chairperson Jeon Hyun-Heui said, "As people feel tired of the continuous pandemic situation caused by COVID-19, I would like to ask you to actively carry out the important duty of anti-corruption and fairness reform with unwavering hope."
She also added, "I would like to ask you, the auditors of public institutions at various levels, to do your best in your position to make Korea a country of integrity and fairness."