ACRC Hosted a Forum on Ways to Develop Administrative Appeals System_
Standing on the Side of Citizens, the ACRC Hosted a Forum on Ways to Develop Administrative Appeals System for Stronger Protection of Citizens' Rights and Interests
- The ACRC hosted a forum with experts from various fields, including academia and legal circles to discuss about future direction of program operation
(11th Feb. 2022, ACRC)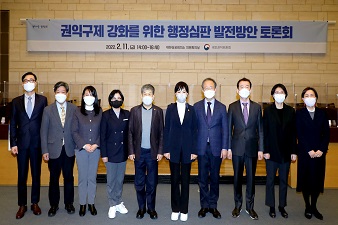 Anti-Corruption and Civil Rights Commission (Chairperson: Jeon Hyun-heui, ACRC) hosted a forum on 'Ways to Develop Administrative Appeals System for Stronger Protection of Citizens' Rights and Interests' at Korea Chamber of Commerce and Industry building at 2:00 PM, 11th February.
This forum was intended to identify room for improvement in the administrative appeals system and discuss ways to strengthen agility and fairness, so that the system can better protect the rights of citizens, while responding to rapidly changing administrative environment.
In today's forum, academic experts who have been studying legislative system related to administrative appeals for a long time, public officials who are operating this system, and legal professionals who are working on this system participated as presenters and panelists. They had a heated debate covering both theory and practice of administrative appeals.
Professor Lee Yoon-jeong of Kangwon National University Law School made a presentation on 'Ways to Expand Criteria for Determining Injustice in Administrative Appeals.' Lawyer Lim Young-ho presented on 'Ways to Improve Agility and Fairness of Hearing and Ruling in Administrative Appeals,' and Professor Sung Joongtak of Kyungpook National University Law School presented on 'Introduction of Appealing (Retrial) System in Administrative Appeals.'
It was followed by discussion session. Professor Cho So-Young of Pusan National University Law School served as a moderator, and Profesor Oh Joon-geun of Kyunghee Law School, Professor Kim Seong Kyoon of School of Public Administration of Kyungpook National University, Commissioner Choi Hyun-jung of Gyeonggi-do Administrative Appeals Commission, and Standing Commissioner Kim Young-shim of the ACRC participated in the discussion as panelists.
Under the ACRC, the Administrative Appeals System has continued remarkable development in its protection of rights and interests of citizens. The system of indirect compulsory performance in 2017 and the mediation and state-appointed attorney system in 2018 were respectively introduced. Also, the acceptance rate has been greatly increased as the system actively determines not just illegality of dispositions, but also unfairness.
Moreover, Online Administrative Appeals Hub System was developed, so that citizens can see their claim, progress and outcome in one place regardless of the jurisdiction of administrative appeals committees. This remarkably enhanced accessibility and convenience of citizens.
The ACRC plans to reflect the opinions gathered from the experts in this forum to the future amendment of the Administrative Appeals Act or other legislations under the act. Also, the commission will refer to this feedback in establishing development plans for provincial and municipal administrative appeals commissions.
Chairperson Jeon Hyun-heui of the ACRC said, "this forum is a meaningful place to discuss ways to make the administrative appeals system a tool for protection of citizens' rights and interests which satisfies the expectation of Korean citizens. As such, I am convinced that this will serve as a foundation for the administrative appeals system of Korea to grow and develop."
She also added, "the ACRC will defend the rights of citizens swiftly and fairly from violations caused by illegal and unfair administrative process."